Perey's Books
   Where Adventures Begin!
Perey's Books opened in the Australian city of Wollongong in 1992 by a newcomer to the area: Elizabeth Perey. Being the first antiquarian and quality secondhand bookshop to come to Wollongong.

Perey's Books quickly became a popular local landmark for book lovers, collectors and readers, as well as a surprise for increasing numbers of travellers and visitors discovering the unexpected beauty and heritage of the area.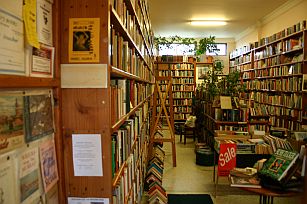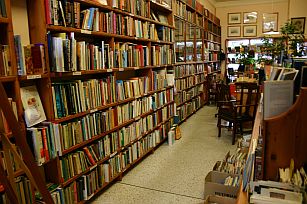 Jo Abrantes, the new proprietor, "inherited" the bookshop in 2003, when Elizabeth retired and moved to Tasmania. Jo fell in love with the bookshop on the day of her arrival to Wollongong in 2001, it was love at first sight.

Perey's Books was the first shop she visited and on that very first day she bought a (rather expensive) book about Wollongong.

Jo, originally from Portugal, lived in Melbourne for 17 years before moving to Wollongong to take up a tenured lecturing position in Computer Science at the University of Wollongong. Jo Abrantes is one who rises to new challenges and fresh situations, and well understands the many demands of readers of all genres.

Wollongong is a centre of heavy industry (coalmining and steel) and a port. But this is by no means the whole story! Wollongong is also a university town and a home to many artists, musicians, performers and writers, and a city of immigration, with large local communities of Chinese, Greek, Italian Macedonian, Polish, Spanish, Vietnamese and many others having come here from all over the world. There are also plenty of surfers here along the many beaches, fishers along the rocks, bushwalkers up and down the escarpment, and hang-gliding and paragliding pilots above us from Bald Hill to Camberwarra Mountain.

Our beautiful Wollongong bookshop closed its doors in 2012 but we will continue to operate online and, hopefully one day, we will reopen a "bricks and mortar" shop somewhere in Australia...